Luke Combs Kicks Off 2019 iHeartCountry Fest On A Strong Note — Literally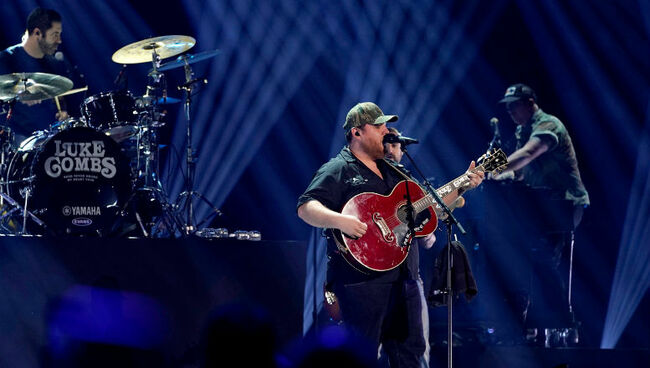 Luke Combs was recently added to Willie Nelson's "Outlaw Music Festival Tour," but the 29-year-old chart-topper was solo when he kicked off the 2019 iHeartCountry Festival presented by Capital One® on Saturday night (May 4).
For the sixth year, country music's biggest party took over Austin, Texas and Combs started the night with the most splashy highlights from his debut album, This One's for You. Alongside a full band, the singer/songwriter strummed away at his guitar (occasionally trading in the instrument for a red solo cup) as he ventured through the 25-minute setlist. With strong vocals and an obvious connection to the narratives of "When It Rains It Pours," "Must've Never Met You," "One Number Away," "Beautiful Crazy," "Hurricane," Combs delivered on all ends. For his closer, he selected fan favorite "She's Got the Best of Me."
While he kept things fairly straight forward for his showing, but that might have been the point. It's clear that there's passion behind the music and if you had just started to get acquainted with the former On The Verge act, then you heard the conviction loud and clear.
In related news, the recent Billboard Music Awards champ revealed that fans can expect a brand-new single called "Beer Never Broke My Heart" to drop next Wednesday. In celebration of the release, Combs is set to perform the cut on The Tonight Show Starring Jimmy Fallon on Thursday. Word of the new track arrived when the singer attempted to sway fans away from the rumors of new music, but he wasn't too sly with his Instagram post.
If you liked what you saw from the Bobby Bones-hosted festival, head on over to iHeartRadio.com/CountryFestival to see all the happenings on stage and backstage of the star-studded affair!

iHeartCountry Festival
See the best moments from our 2019 iHeartCountry Festival held May 4, 2019 at the Frank Erwin Center in Austin, TX.