Dan + Shay Toast To 'Tequila' At 2019 iHeartCountry Festival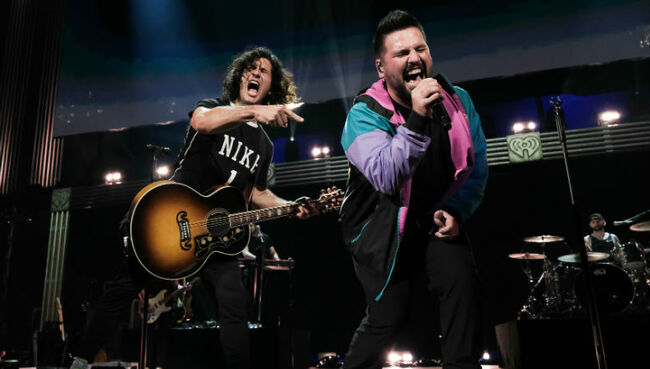 It's only been a few days since Dan + Shay helped Joe Jonas and Sophie Turner walk down the aisle for their Sin City wedding with their hit, "Speechless," but the country duo also brought the hit to the 2019 iHeartCountry Festival presented by Capital One® on Saturday night (May 4).
With their four-member band in-tow, the pair delivered hits from past and present to the Frank Erwin Center in Austin, Texas and made it look all too easy in casual attire. Dan + Shay kicked off the set with their newest single, "All To Myself," the pop-friendly cut about some physical loving. "How Not To," "Speechless," and "19 You + Me," followed afterwards, but the real moment of their performance arrived in the form of a beverage named "Tequila." "It is Saturday night in Austin, Texas and, coincidentally, the name of this song is a word of what we'll be drinking all damn night with you people," Dan told the audience. "Do you feel like singing one more song with us Austin, Texas? There are a lot of people, man. This has potential to be the loudest this song has ever been sung, so if you know the words, iHeartCountry Festival, please sing along."
Besides their performance at the Las Vegas wedding chapel, fans recently saw another memorable rendition of "Speechless" at the 2019 Billboard Music Awards when the two teamed up with Tori Kelly to reimagine the 2018 hit. Fun fact: The two acts previously performed together alongside Ed Sheeran for a rendition of "Thinking Out Loud" at a Nashville show some years ago.
If you liked what you saw from the Bobby Bones-hosted festival, head on over to iHeartRadio.com/CountryFestival to see all the happenings on stage and backstage of the star-studded show!
Photo: Ryan Vestil for iHeartRadio

iHeartCountry Festival
See the best moments from our 2019 iHeartCountry Festival held May 4, 2019 at the Frank Erwin Center in Austin, TX.