Chris Janson Brings 'Good Vibes' & Harmonica Skills To iHeartCountry Fest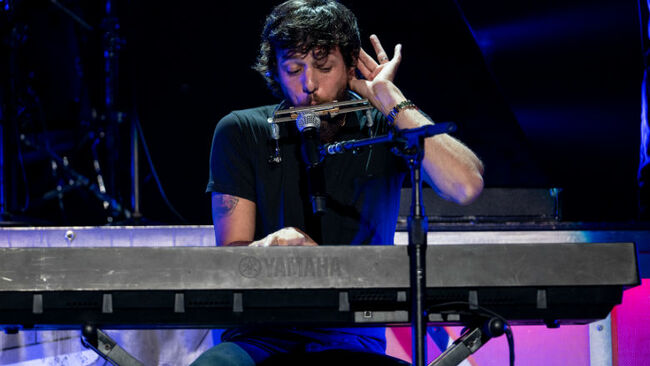 Chris Janson's star is rising fast as we make our way through 2019. Fresh off his first win at this year's ACM Awards, as well as his addition to the CMA Music Festival roster, the multi-talent touched down in Austin, Texas on Saturday (May 4) for the 2019 iHeartCountry Festival presented by Capital One® in Austin, Texas.
For the second set of the evening, which was introduced by host Bobby Bones, the 33-year-old star took to the Frank Erwin Center for a five-song set, which showed concert-goers just why the Nashville-helmed singer is catching so much attention. He's energetic. He's charismatic. He's incredibly grateful for his success. After kicking off with a harmonica solo for "Redneck Life," he delivered the entertaining "Fix A Drink." However, Janson's performance presence was simply electric when attention turned to his recent single "Good Vibes." "Now all the happy people in the room say 'Whooooo!" he told the crowd before venturing into the number, which included plenty of shots of him showing off his pearl whites and a flashy neon backdrop.
Towards the end of his set, he opted his usual medley cover of Billy Joel's "Piano Man" and "Drunk Girl," before ending on "Boat." "I wrote this song, [so] that we would all stop and think on a daily basis to respect one another and take care of one another," he said of the former track. Jason will take those hits with him on his road-set, which unsurprisingly has him all booked across the country until the end of September. Yep, you read that correctly, the singer/songwriter has his summer stacked with back-to-back shows. Click here to see the full list of tour dates.
If you liked what you saw from the Bobby Bones-hosted festival, head on over to iHeartRadio.com/CountryFestival to see all the happenings on stage and backstage of the star-studded show!
Photo: Ismael Quintanilla for iHeartRadio

iHeartCountry Festival
See the best moments from our 2019 iHeartCountry Festival held May 4, 2019 at the Frank Erwin Center in Austin, TX.